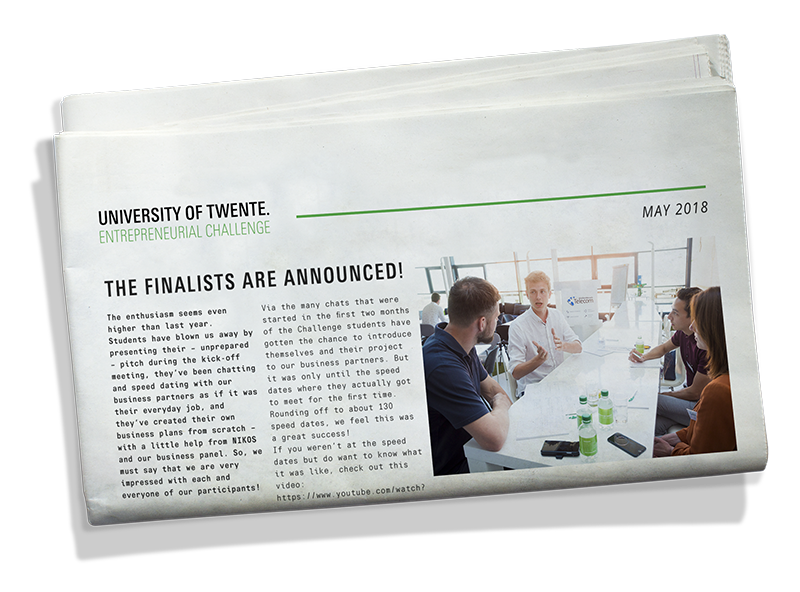 The enthusiasm seems even higher than last year. Students have blown us away by presenting their – unprepared – pitch during the kick-off meeting, they've been chatting and speed dating with our business partners as if it was their everyday job, and they've created their own business plans from scratch – with a little help from NIKOS and our business panel. So, we must say that we are very impressed with each and everyone of our participants!
Via the many chats that were started in the first two months of the Challenge students have gotten the chance to introduce themselves and their project to our business partners. But it was only until the speed dates where they actually got to meet for the first time. Rounding off to about 130 speed dates, we feel this was a great success!
If you weren't at the speed dates but do want to know what it was like, check out this video: https://www.youtube.com/watch?v=xScbVZtr60M
And now it's time to announce who will get the chance to impress the partners, the grand jury, and the rest of the audience. It's time to announce who made it into the top 20.
These projects and students will be battling for amazing opportunities and prizes during the final event on the Entrepreneurial Day on the 21st of June. Curious? Reserve your seat and don't miss this spectacular battle. https://www.utwente.nl/organisatie/nieuws-events/evenementen-plechtigheden/entrepreneurialday/aanmelden/
Let us just say that selecting 20 projects was not an easy task. Therefore, we've decided that 22 projects should get the opportunity to be in the finals of the UT Challenge!
If you don't see the name of your project below, this still means that you are doing a great job and we would like to invite you to join us again next year!
For now: congratulations to the following contestants with your well-deserved spot in the final:
The projects are randomly ordered
Ideation
Personal Energy Manager
Smart Cables
My Health
Locomogo
Heart Tells
Big Eye: Business Intelligence for SMEs
Reducing the amount of false alarms at Emergency department
Wearable exoskeletons and bionics
Wear the future
Prototyping
ReAssess
Biting protection
App een oma
Carbon Code
Picobelly
SolarCycle
Start-Up
Micro-Cosmos
Claimchain
Carbon Core
CTCPure
FeathIR
Instant Games
A3T
Finalists, please check your email to see which steps you'll need to follow next!
Good luck and see you soon!